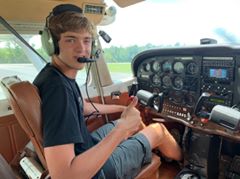 Nathan Baxley, a 2020 FMA Solo finalist from Alabama, soloed on June 23, 2020 at Shelby County Airport (KEEF) with Over The Mountain Aviation in a Cessna 172. Nate's CFI is Mark Scardino.
"I'm 17 years old, and i just flew solo for the first time. it feels amazing to have taken such a huge step towards my lifelong goal of becoming a pilot." – Nathan Baxley
Congratulations Nate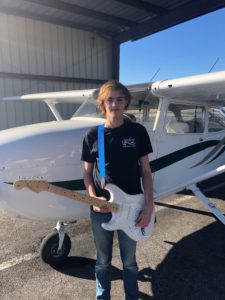 About Nathan: I am a Junior from Birmingham, Alabama. I have wanted to be a pilot for as long as I can remember. Two of my great-grandfathers were pilots, one of them flying P-47s in WWII. I grew up near Tyndall Air Force base in Panama City, Florida, where I could watch F-15s and F-22s fly over often. Having friends and relatives in the Air Force, and family that would talk about aviation, kept me exposed to the subject. From an early age, I learned about aviation and dreamed of becoming a test pilot like Chuck Yeager. Soon after moving to Alabama, I took my first ride in a small plane, and I was hooked. I recently started taking flight lessons and have logged a few hours, but am really excited to continue working toward my private license and getting involved in aviation as much as I can. I am also in Boy Scouts and hope to complete my eagle scout rank in the next couple of months, after which I will have a lot more time to devote to aviation.

Music has always been a big part of our family. Music constantly plays in our house and my parents enrolled me in music lessons early in life. I took piano lessons for five years, but found my instrument three years ago when I picked up the guitar and found a new passion for music. I almost immediately started playing in my church's student band. Now, music is a huge part of my life. I play at church every week, and I have played for our high school show choir program. Recently I have started two different bands with friends and we are writing music and performing. I enjoy playing and listening to all kinds of music, but my favorites are blues rock, soul, classic rock, and alternative.

I am currently exploring different options for a career in aviation and recently toured the professional flight program at Auburn. Both aviation and music will always be a part of my life, and I am very excited to see where they will take me.