Meet Jake Myers and Jacob Burdette – your 2020 FMA Solo program scholarship recipients.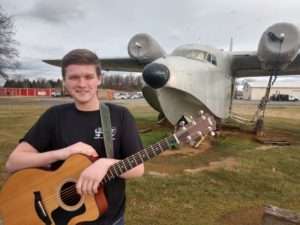 My name is Jake Myers. I am 16 years old and I attend the Capitol Area School of the Arts in Harrisburg PA for guitar and vocals. I love to spend my free time playing music and building and flying models. I love flying and playing my guitar more than just about anything in the world. I caught the Aviation bug back in 2013, and when I took my first flight in January 2016, I knew that that was what I wanted to do with my life. I want to have a career in aviation, and I would like to start now by getting my private pilots license.
Follow Jake's journey at FMAsolo.org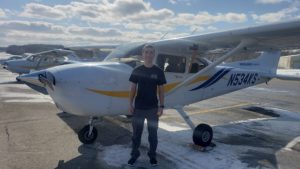 Hello! My name is Jacob Burdette and I am currently a senior at Olmsted Falls High School. I will be attending Kent State University in the fall to major in aeronautics with a focus on Flight Technology, which is their professional pilot program. I have been fascinated by music and aviation my whole life. I have lived under the final approach for Cleveland Hopkins Airport for fifteen years and have never gotten bored of watching all types of planes fly over my head. In addition, I have been playing the trumpet for eight years. I have preformed at many venues all over the country such as Severance Hall, Universal Studios and Disney World. I am involved in my school's Wind Symphony, Jazz Ensemble, Pit Band, Marching Band, and I play in the Cleveland Youth Wind Symphony Group 1. One of my dreams other than being a pilot is to march with the Bluecoats Drum and Bugle Corp. I am excited for what the future holds for me in both music and flying!
Follow Jacob at FMAsolo.org.