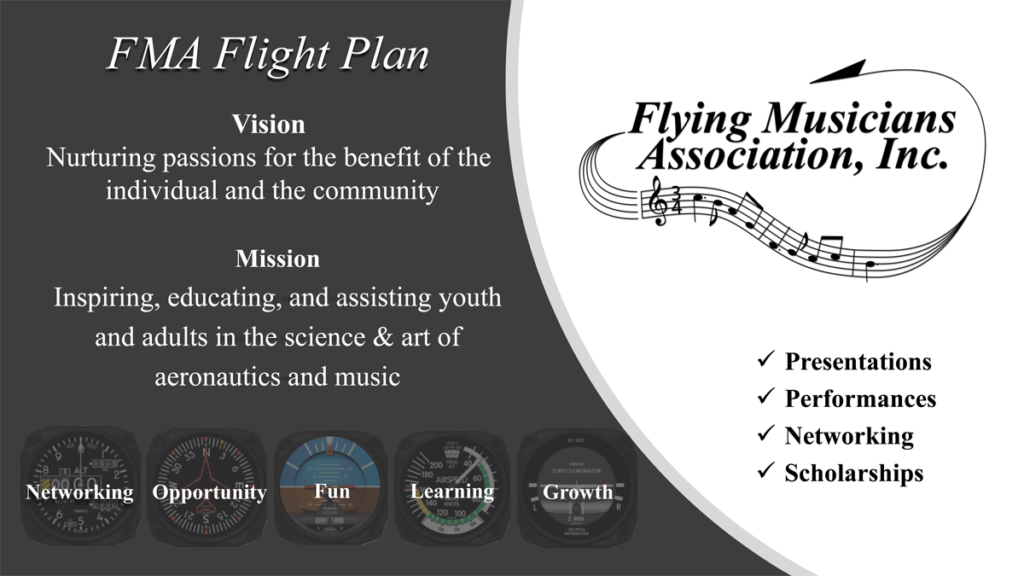 PURPOSE & PROGRAMS
Inspiring, educating and assisting youth and adults in the science & art of aeronautics and music.
Presentations: FMA has ready to go presentations:  "Music in the Skies – What Pilots can learn from Musicians" & "Symphony in Skies – The correlation between aviation & music".  These presentations can easily be tailored for the demographics of the audience.

Venues

Clubs i.e. Music, CAP, ROTC

Performances: Members frequently perform music at aviation and music events ranging from local fly-ins to national and even worldwide events: AirVenture in Oshkosh Wisconsin, Sun 'n Fun in Lakeland Florida, National Association of Music Merchants (NAMM) in L.A. and Nashville to name a few. Typically you will hear live music at corporate functions coordinated by FMA in return for donations to fund programs and scholarships.
HangarJams: Members are encouraged to host gatherings at their airports to raise awareness and funds of and for the Flying Musicians Association by bringing musicians and pilots together.
FMA Network: A network of passionate individuals is a community resource for all with similar aspirations. Whether you are striving to obtain a goal or you have already achieved makes you a valuable resource for those in your footsteps. The FMA network is filled with over 800 individuals willing to assist their fellow pilot/musicians achieve a goal.
Scholarships: The FMA Solo Program was developed in 2014 to award deserving student musicians who excel and have a strong desire to learn to fly. In addition to awarding twelve Learn-to-Fly scholarships, the program has brought hundreds of student musicians into the FMA network. A music scholarship is planned for the near future.
Annual Conference: Artists & Aviators is in the wings raring to go. This event will be produced annually (site to be determined) to gather those passionate about aviation and music to highlight our programs, past successes, future programs, and to showcase scholarship recipients and members who have excelled in bettering their communities. This will be FMA's annual opportunity to raise awareness and funds for the future. Members and guest will visit from around the country to attend this annual event – Artists & Aviators: an Annual Landing of Flying Musicians.