Destination Aviation
This 3 part story journals FMA student member Autumn Pepper Rhodes' quest of flight.

After joining EAA Chapter 66, I spent the next year volunteering at the monthly Young Eagle Rallies and attended Build Night when I could. The concepts behind the forces of flight came naturally to me and I loved learning and flying. As summer approached, I was given the opportunity to apply for the chapter scholarship to Destination Aviation, a weeklong aviation camp at Sun-n-Fun in Lakeland, Florida. This week at camp allowed my passion for aviation to really blossom!

My week of Destination Aviation had daytime students and overnight students, aged 11-13. There were four girls, and 12 boys. Since I lived a few hours away, I was an overnight camper. There were around six overnight campers, and I was the only girl, so I had my bunkroom to myself. I think we had an advantage as overnight students because of the friendships we formed. We would get up in the morning, eat breakfast together, discuss our class materials, have class, lunch, more activities and then hangout and do something fun in town before or after dinner and then hang-out until bedtime. I made some great friends during that week who I still talk to. In our classes, we learned everything from weather observation and knowledge, to aerodynamics and parts of an airplane. It was basic information, nothing too in-depth for our age. Even so, I know that those lessons helped me progress in my flight journey at a faster pace.

Our classes covered everything from weather observation, to parts of the aircraft and aerodynamics. We made gliders and learned about flight planning. One of the first activities we participated in was a Discovery flight. At home, our EAA flights often fly along the river or the coastline so it was interesting to be flying over land the whole time. We also had time every-day to practice on the flight simulators. The sims had a curriculum we followed teaching basic flight instruction. An advantage to being overnight students included being able to practice after hours. We also enjoyed being able to choose different airplanes to fly. The simulator lessons were important because they impacted what we would be allowed to do on our flight day. The best part of Destination Aviation was flight day! We drove over to Vero Beach and in groups of 3 would fly with a CFI with each student taking a 30-minute leg of the trip. Part of our studies were preparing for these flights and practicing on the simulators. My flight instructor told me I was a natural! Flying really is the greatest thrill!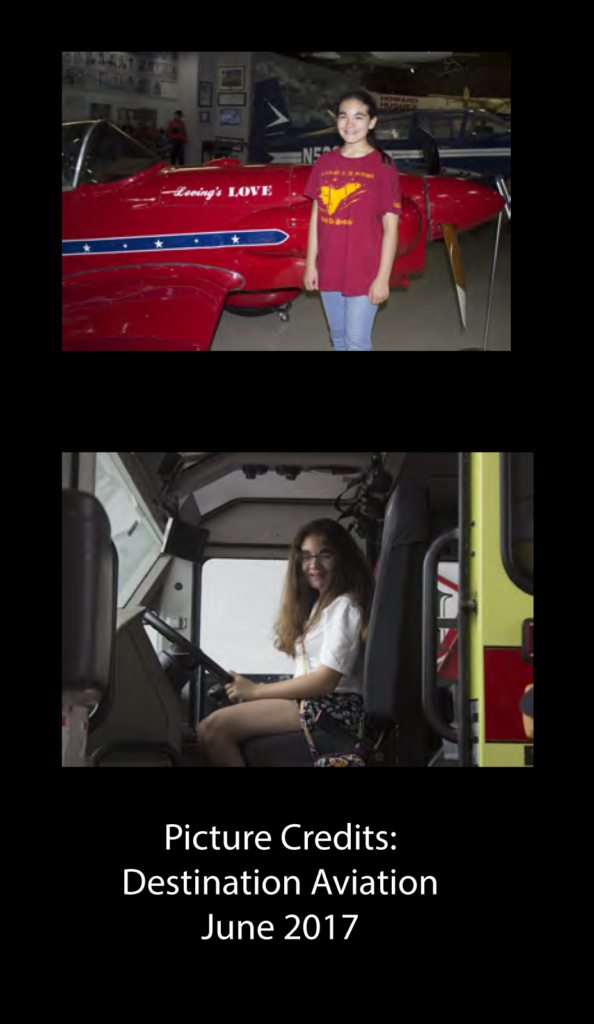 For graduation, each student picked a topic we found most interesting and made a presentation. We could work in groups if we felt more comfortable. Being the overachiever I am, I chose the hardest topic – creating a manual flight plan. I found it remarkably interesting and challenging, but that is why I loved it. I showed everyone, including my parents, how to plot a flight plan, calculate fuel and maximum gross weight. This experience influenced my love for the mathematical and logistical aspect of aviation.

When I came home, I made a presentation to Chapter 66 on what I learned and accomplished at camp. I had so much fun at Destination Aviation, I went back the following year and saw some of my friends. We were five girls to ten boys and I picked flight planning again as my presentation topic. It was another great week of aviation learning and being with my peers who share a passion for flight.

Next volume – Vol. 1.3
First volume – Vol. 1