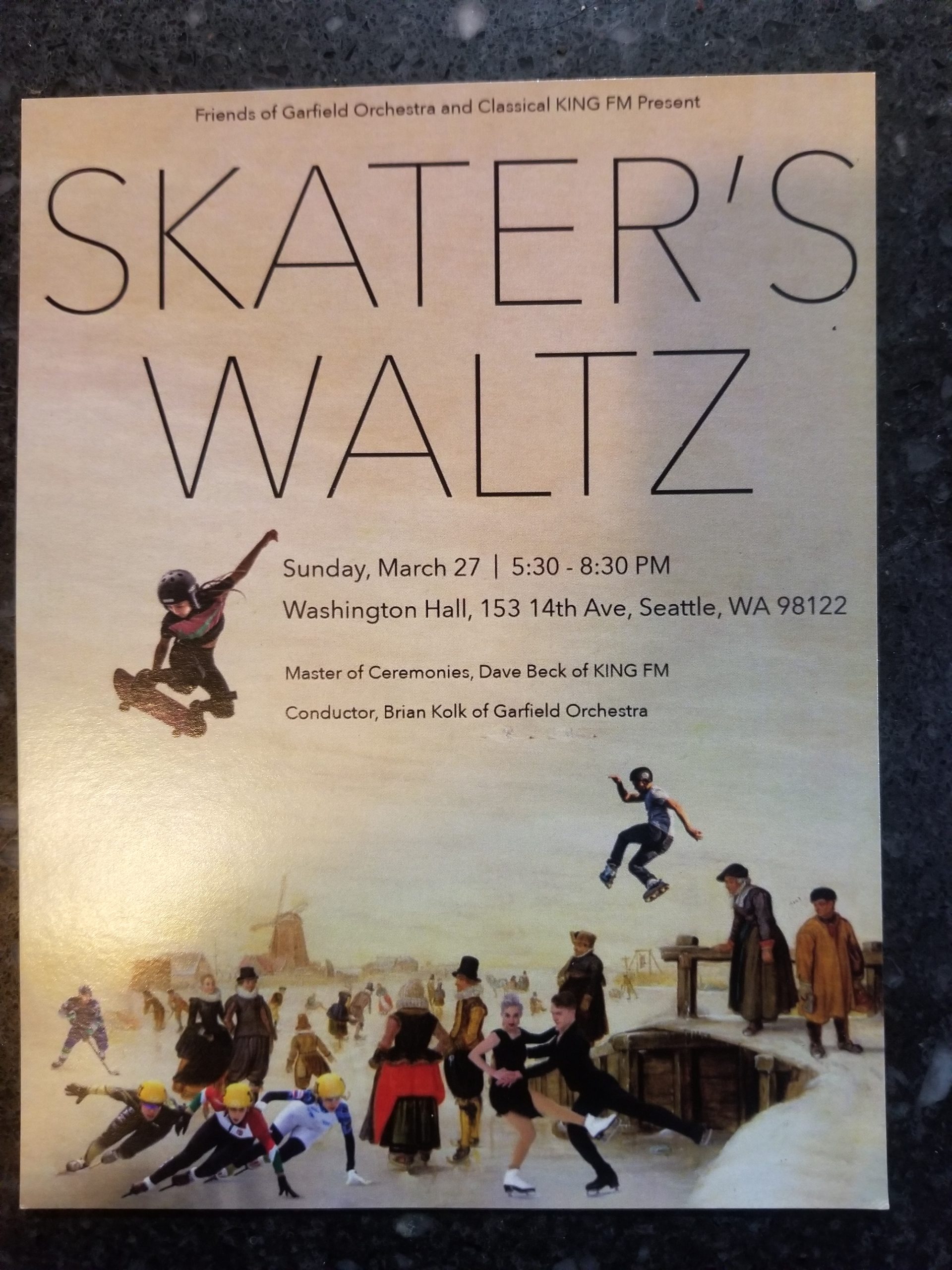 by Jovencia Webbeking (2022 FMA Solo Nominee)
My school, Garfield Orchestra, puts on an annual Winter Waltz held in the lobby of Benaroya Hall. This is one of the most exciting parts of the orchestral year, in my opinion, because it's a night where anybody from the community can come out, support the orchestra, and have a fun time dancing the night away. Students, parents, siblings, professional dancers, and community members alike — all share the dance floor.
The school orchestra is split into three groups, and throughout the night they play a lot of different songs — all waltzes or polkas, with the exception of a Grande Promenade. Waltzing lessons are held beforehand, and professional dancers come in and give demonstrations. This is usually the biggest fundraising event for our orchestra for the whole year.
I've been going to these waltzes since I was around ten years old because my older brothers were in the orchestra. It's always so magical and exciting, dancing waltzes with my friends or families. I remember always looking up to the players in the orchestra, wishing that one day I may be worthy enough to join the ranks. I was so happy to be able to be a part of this my Freshman year — playing the piccolo and dancing with my classmates. Unfortunately, because of the pandemic, we didn't have a waltz last year. And this year, the waltz got moved to a different venue and was pushed back to the beginning of Spring. This seemed daunting, but when the time came to perform, all new memory making was merging with all the memories before.
It was a wonderful night! I was playing in the first set, so after all my songs, I was free to eat dinner and dance. Music-wise, I was playing piccolo and feeling consciously slightly out of tune, overcorrecting a few times to match pitch. But with this repertoire, it's okay to make mistakes, because the biggest goal is to have fun, while the audience non-actively listens. I'm so glad that this was able to happen again. There was something so joyful about being on a full dance floor again, swaying to the music with a partner, trying to avoid stepping on other people's toes. I think something very different about this, is you could ask anybody around you for a dance, even strangers, which I certainly did. We even got the local classical music radio station to do their live broadcasting again! The waltz was shorter than in the past, because it was on a Sunday, not its usual three day weekend, but that made every minute matter more. When I was playing my last piece and dancing to the last song of the night, something bittersweet formed in me that I was no longer going to be an integral part of the waltz again. I am so grateful that I've had all these years in such a fun and formal experience and sad to leave. I do know though next year, I will either be at the waltz in-person or somehow listening to it, wherever I may be.