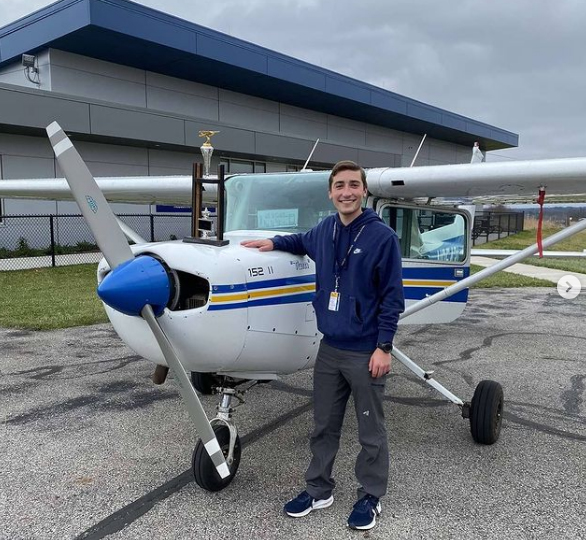 The final 2020 FMA Solo recipient has soloed. Jacob Burdette from Ohio has flown an aircraft, alone, on November 21, 2020, all while attending Kent State University, studying aviation, and performing with Kent State Marching Golden Flash. Jacob accomplished this with the assistance of Paul Marchky, flight instructor, in a Cessna 152 (Kemt 2) at the Kent State University flight school.
"I finally got to fly a plane by myself for the first time after 16 hours of training, and I felt invincible. I will never forget November 21, 2020. I taxied to the runway and lined up with the centerline and pushed the throttle to full power. Before I knew it, I was flying a plane by myself for the first time. Words can't describe the feeling of freedom and accomplishment I had and still do when I'm writing this post." Read Jacob's entire post at FMASolo.org.
More About Jacob Burdette:
My name is Jacob Burdette and I am currently a senior at Olmsted Falls High School. I will be attending Kent State University (ed. note – now a freshman at Kent State) in the fall to major in aeronautics with a focus on Flight Technology, which is their professional pilot program. I have been fascinated by music and aviation my whole life. I have lived under the final approach for Cleveland Hopkins Airport for fifteen years and have never gotten bored of watching all types of planes fly over my head. In addition, I have been playing the trumpet for eight years. I have preformed at many venues all over the country such as Severance Hall, Universal Studios and Disney World. i am involved in my schools Wind Symphony, Jazz Ensemble, Pit Band, Marching Band, and I play in the Cleveland Youth Wind Symphony Group 1. One of my dreams other than being a pilot is to march with the Bluecoats Drum and Bugle Corp. I am excited for what the future holds for me in both music and flying!